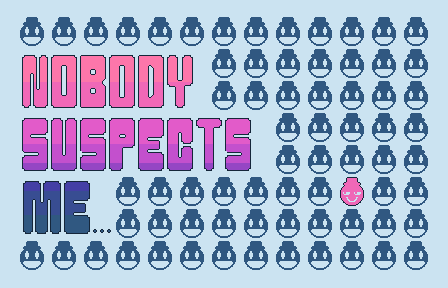 Nobody Suspects Me
A downloadable game for Windows and macOS
Nobody suspected him. Why would they? After all, he looked just like everyone else. And thats exactly how... he got away with it.
This game was created for the A Game By Its Cover 2020 Game Jam; inspired by the following famicase design.
Greetings...
Your name is Pink. You live in Pink-Town. You and your friends absolutely LOVE the color pink. In fact, you throw pink-themed parties almost every single night. Nibbling on pink-colored appetizers and sipping pink tea as you wiggle your pinky finger. (It's all rather absurd actually; myself hailing from Green-Town would never wiggle a finger while indulging in a cup of tea).
As tradition states, once every year one special resident of Pink-Town is selected to be given the title Blend-Master if they can successfully infiltrate a neighboring town unsuspected. You have been selected this year.
Gameplay
Nobody Suspects Me is a timed maze running game, built on the Love2D game framework. You start at one end of the map and have to navigate the level to find the exit, all the while trying to maintain your disguise by collecting pickups along the way.

As of now there are 8 levels, ranging from straight-forward to difficult (mazes w/ multiple dead ends). If the game gets some traction I might add some additional levels. I've clocked it to about ~1-2 hours per level (made in Tiled).
Pink must collect the Blend Potions

in order to remain unsuspected. It is wise that you do not stand still. Use the Blend Potions to keep track of un-ventured territory.
Controls
Title Screen
[SPACE] - Start Game
[ESC] - Quit Game
[W,S] - Change Volume
[A,D] - Change Skill Level

Game Screen
[W,A,S,D] - Movement
[ESC] - Pause
Pause Screen
[ESC] - Unpause
[SPACE] - Restart Game
[W,S] - Change Volume
Credits
Thank You!!
Personal Notes:
I'm personally thrilled to release another game and I can't express enough gratitude for sites like itch.io making it easier for an solo-indie developer to publish a game for the world to see. It's difficult enough to just... complete something, let alone wrapping it up in a presentable way and unleash it on the masses, hoping it'll create some joy in someone's life. Simply put, it just feels good to complete something.
My original intent was for this to be a rhythm-based game. No pickups to re-charge your Blend-Meter, but instead the player would have to press 1 of 4 buttons to make Pink do a dance moves. There was a lot of concern here, mainly my fear of timing issues across different platforms, computers, etc... So I scrapped the idea for now and added the bottle pickups.